case04
Real-time monitoring evolves in both the software and hardware aspects of the daily survey

–Use the daily data to stimulate your brain to come up with new ideas and for real-time optimization of your measures–
At Nestlé Japan Ltd.,media planning and media buying has changed dramatically thanks to the development of live monitoring environment. However, the challenge of how to follow behavioral changes which link exposure with purchases has not been tackled due to the fact that although they got an understanding of the data concerning access log and sales performance on a daily basis, they were unable to get one concerning behavioral changes on a daily basis. To solve this problem, Mr. Kazunori Matsuzaki of Nestlé Japan Ltd. carried out daily surveys. With the daily survey, an online questionnaire survey is conducted every day. We interviewed Mr. Kazunori Matsuzaki of Nestlé Japan Ltd. to ask how he monitored the results of the survey in real-time to optimize their measures in real-time.

* From left: Kogane (INTAGE), Mr. Matsuzaki (Nestlé Japan), and Tamaki (INTAGE)
I used to think that, if you take cost effectiveness into account, there is no need to conduct a daily survey.
May we ask why you have not been conducting a daily survey in the past?
That's because I used to think that the cost effectiveness was not very good.
I knew it would be very costly to obtain data on a large number of samples on a daily basis which is needed for the measurement.
In addition, I felt that, even if were able to measure the effectiveness of our campaign by questionnaire, we wouldn't come up with any meaningful discovery. Therefore, in terms of the cost to measure the effectiveness of the campaign, I thought the cost effectiveness would not be good enough.
In that case, why have you now decided to conduct a daily survey?
That's because I wanted to support live monitoring.
When you are conducting live monitoring, as you are optimizing your media budget on a daily basis, you need to collect detailed marketing data. You cannot support live monitoring, as we have been doing in the past, by asking "What have you watched during the last month?" after the campaign has completed. However, if you ask "What did you watch yesterday?" or a question like that, you can support live monitoring.
I also thought that if you ask a question about yesterday, you will also be able to get a finely-tuned response in terms of quality. If you think about yourself, although you might be able to somehow remember what you had for lunch yesterday, you won't be too sure about last week; and as for a month ago, you would be so hazy that it'd be a case of "my memory betrays me." That's how I realized that it would also function as a method of obtaining attitude-related data.
Once I realized there is that much potential, I suppose I probably didn't want to stay in a situation where "I don't know because I haven't tried" (smiles).
It may be because, rather than listening to other people's experiences, I wanted to talk to other people after I had experienced it myself and understood its advantages and disadvantages.
By looking at the results of the daily survey from both a psychological and a hard data point of view, all sorts of ideas emerge from those who are involved in the process.
Have you come up with any new discoveries after you conducted the daily survey?
In terms of the hard data point of view, we can see the residual effects of our competitor's campaign (note: the effect of a campaign which lingers on after the promotion has been implemented).
As I knew, before we implemented it, that I would be able to come up with such a discovery, it was not a particularly big surprise. If you are provided with data on a routine basis, you will become able to make a calm judgment on the campaign of your competitor's product.
However, it's not interesting at all just looking at the data which goes up and down day by day, so we decided to have a regular 30-minute meeting every week.
In terms of the psychological point of view, I mean in terms of our regular meeting, many ideas start to come from the people who are involved in this process.
The meeting participants included, in addition to the people from the media buying department, the survey department, and INTAGE, an expert on statistics with a PhD. In the meetings, the persons in charge of the respective departments present their hypotheses based on the daily survey results. We then implement the hypotheses presented. We look at the results of our measures via the daily survey to present other hypotheses to each other, and so on. As we repeated this kind of routine week after week, we felt that our live monitoring has evolved further.
Did that actually result in a change of behavior?
We changed the media budget distribution for the Tokyo Banana and KitKat campaigns.
As we had the hypothesis that the younger generation will buy it after sharing in our meeting (reversal of the popular opinion), our media planning department changed the budget distribution to SNS, popular with the younger generation, and off-line advertisements.
When it comes to a causal analysis of the effect of advertisements, what is practically important is not so much the causal relationship itself, but "Which order is effective?" and "What sort of time lag?" Thanks to the efforts of INTAGE, who even visualized for us and presented the idea that the "younger generation find fashion via SNS and experience it by way of in-store advertisements and events," we were able to make such decisions.
PA announcement on foul balls does not make sense
What sort of things do you expect from
INTAGE

in the future?

The PA announcement about foul balls in the baseball park is an ex post facto evaluation, isn't it?
They issue a caution after the ball has been hit into the stand saying "Foul balls could cause a serious injury, please be careful," which I think is meaningless. They should let people know before the ball comes, for example by announcing "Player XXX tends to hit a lot of foul balls, spectators seated in the stand near third-base need to be aware of this." This is a meaningful thing to do. I think the same principle is applicable to our future business. Nowadays, a lot of high-quality information comes your way before you purchase or consume and the speed the information is being sent is getting faster; therefore, the effect does not last very long. The fact that the effect does not last for long is exactly the reason why we, the survey department team, need to keep talking to consumers and sending messages to the related departments/sections in real-time.

In regard to this project, I think the project allowed us to feel that it's possible to both make a hypothesis for action and evaluate the results of that action in a refined and detailed manner. In the future, we expect you to not only supply the unique data which is exclusive to your company such as data that allows us to carry out fact-based analysis of on/off/purchase/behavioral changes over a short period of time taking advantage of comprehensive indexes based on i-SSP and daily surveys, but also to allow us to have discussions with you to change our actions together.
---
Kazunori Matsuzaki
Nestlé Japan Ltd.
Manager
Marketing Intelligence Dept.
Marketing & Communications Division
Started at Nestlé Japan Ltd. in 1986. After some experience in the domestic sales department, had experience mainly in the marketing research and coffee marketing areas and has been in the current position since 2011. Stayed in the marketing research area for 19 years in total (over three separate periods). In addition to the analysis of consumer surveys he is associated with the development of new products, brand diagnosis surveys and panel data; recently, he puts a lot of effort into facilitating consumer insight workshops and ideation workshops. His hobby is statistics which he started after reaching the age of 50 because he was inspired by the phrase "Data science" (trying hard but not so easy).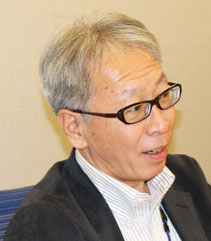 Etsumi Kogane
INTAGE Inc.
Special Appointive Officer
After graduating from Osaka University, engaged in retail support planning at a petroleum company.
Started at INTAGE Inc. in 2001.
Mainly, as a person in charge of major client accounts in such areas as cosmetics, and food and beverage, took on a wide range of tasks such as market understanding, target understanding, and planning and evaluation of measures.
At the moment, she's engaged in service development and alliances as the person in charge of special assignments.
Kenichi Tamaki
INTAGE Inc.
Senior Manager, West Japan Office
After graduating from university, started at INTAGE Inc. in 2006.
Since then, he has been working in data collection and analysis related areas centering on food and beverage, cosmetics, etc.
Additional cases