A portal site for retailers which makes it possible to visualize the "big data" they hold, such as POS/ID-POS data, while also delivering information from the consumer's perspective that serves as hints for creating sales sections and point of purchase advertising every day.

How to use see-port
A portal site for retailers
A portal site for the services and solutions that INTAGE provides retailers.
In addition to access to free contents that can serve as hints for everyday operations, such as "Retail News" and other useful information, this portal is an entrance point for solutions such as ID-POS analysis tools and Genometrics® Connect.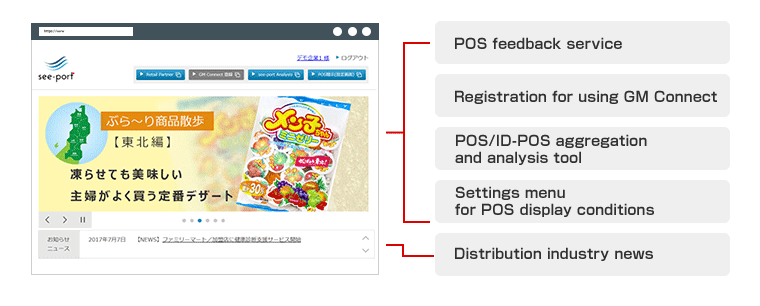 Make use of highly varied information contents
Free to register and use the site. Easily find information that will be useful for your work on a PC or smartphone.
Example of contents

We plan to expand this section by adding the results of INTAGE's questionnaire surveys and other contents.
Main contents
| | |
| --- | --- |
| Seasonal ingredients | Such information as how to select ingredients, nutritional value and storage tips can be used to make conversation with customers! |
| Look at dining table data | An introduction to dishes commonly made in households, special cooking methods and advice from professionals. |
| A stroll to look at the products | An introduction to long-selling products in specific regions and Japanese products that are popular overseas! |
| Shopping log | Real tracking of purchase behavior and receipts for one day! |
| What the customers saw | Catch up with products picked up in TV programs! |
| Weekend sales forecast | A bold forecast of sales over the weekend, by prefecture, based on SCI® purchase histories and weather forecasts! |
The flow of service provision
Application procedures
see-port is a site for registered members. First, please contact INTAGE's sales desk.
If your domain is already registered with us, you will be able to use this service immediately just by notifying us of your email address and other basic information.
Companies that need to newly register their domains will be able to use the service about two business days after they submit their applications.
To use see-port Analysis, retailers will need to transfer their POS/ID-POS data to INTAGE's data platform.
This is a "paid service," so our sales representative will explain in detail about the application procedures, costs, implementation schedule and other matters.
Frequently asked questions
A web browser is all that you need to view the information.

User registration is necessary, but there is no limit to the number of viewing users.

This can also be used on smartphones and tablets.

We propose the sort of marketing research that can deal with your company's challenges.

Please feel free to contact us. The relevant team member will get in touch with you.