Genometrics®
Solutions for visualizing customer profiles
Genometrics is a solution which visualizes the values (DNA) and life stages of customers by linking ID-POS data that retail businesses own with information on values concerning food, health, and shopping.
Characteristics of Genometrics
Visualization of the customer
By using Genometrics, it's possible to understand differences in the sense of values of customers which are difficult to see based on just gender and age group.
It visualizes various profiles that cannot be identified by ID-POS data only including finer attributes such as whether they are married or whether they have children as well as the latent purchase potential of customers.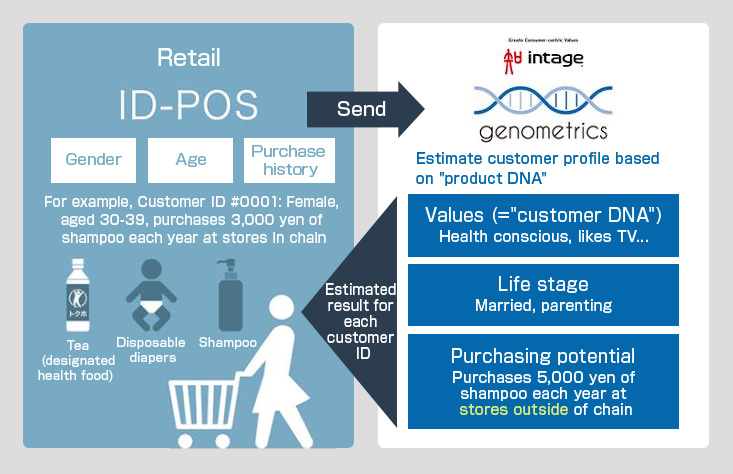 How to use Genometrics
Understand the store's customer segment
Even if they belong to the same chain, the customer segment will be different from store to store.
It allows you to achieve efficient store management by grouping the stores on the basis of their "customer segment" composition which supports the sales of the store so that you can have consistent store concepts and product lineup policies.

Search for the most likely customer segment that would contribute to increasing sales
The sales records of ID-POS are just one part of customers' shopping. Customers have "purchasing potential" since they also shop at other stores.
By strengthening those product lines which are supported by the segment that has the largest purchasing potential, you will increase your sales opportunities.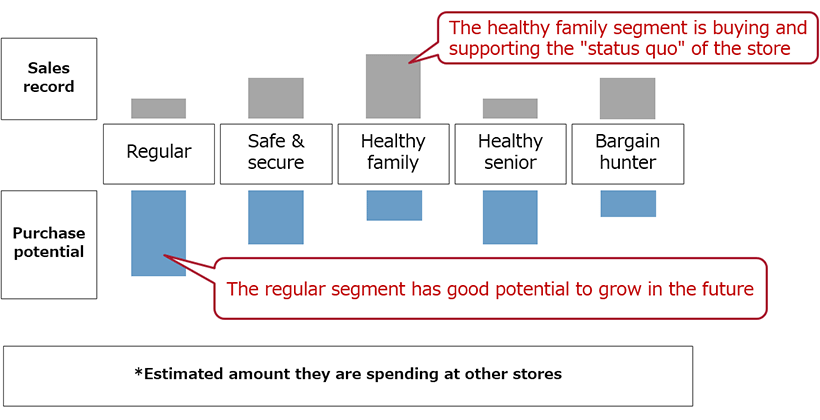 Get to those customers who are likely to purchase efficiently
Identify those customers who could be your target based on their "purchasing potential" and "sense of values"
It's possible to find those customers on whom you should concentrate your efforts and deliver your offer tailored to their interests/concerns using effective media.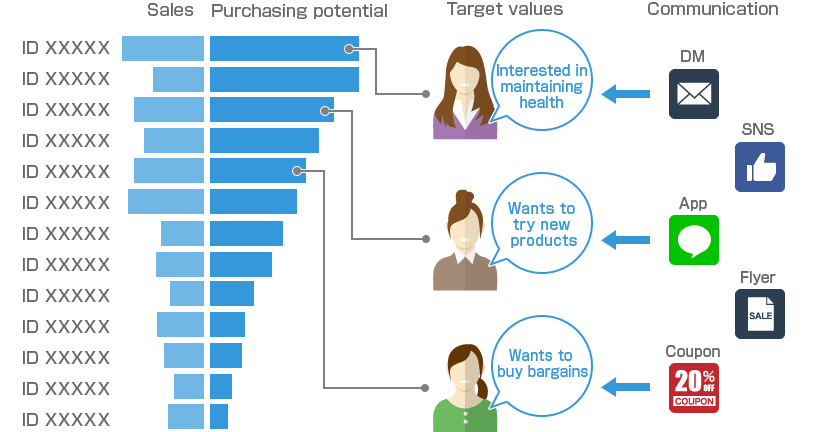 Why is it possible to do such things!?
Create DNA for a product that other companies cannot make based on the SCI® monitors questionnaire survey.
Leading to the purchasing potential and sense of values of the customer by applying it to ID-POS.

* The "nature and characteristics" of approximately 340,000 products have been made into attributes on the basis of consumers' insights (lifestyle and sense of values).
We propose the sort of marketing research that can deal with your company's challenges.
Please feel free to contact us. The relevant team member will get in touch with you.
Services recommended for those viewing this page