Overseas Survey
Know the country. Know the region. Know the people.Global research by INTAGE
As the number one research company in Asia, the INTAGE Group has offices in 11 countries and regions and offers 400 overseas surveys or more (global marketing research) each year in China, all of Asia, Europe, the U.S., and Middle East. Our two-pronged strength cultivated through years of sophisticated consulting research and reliable local insights powerfully support Japanese enterprises' overseas businesses.
INTAGE's Global Research
Characteristics 1
Our Worldwide Network
We deliver quality research and have a total of approximately 575 employees deployed in offices established in 11 countries and regions, as well as work in collaboration with reliable research partners in 40 countries or over around the world.
Our global consulting members consists of Japanese and local staff fluent in Japanese at each overseas office and overseas research specialist members in Japan office, multi-national employees with deep understanding in the different cultures and various experiences in global research.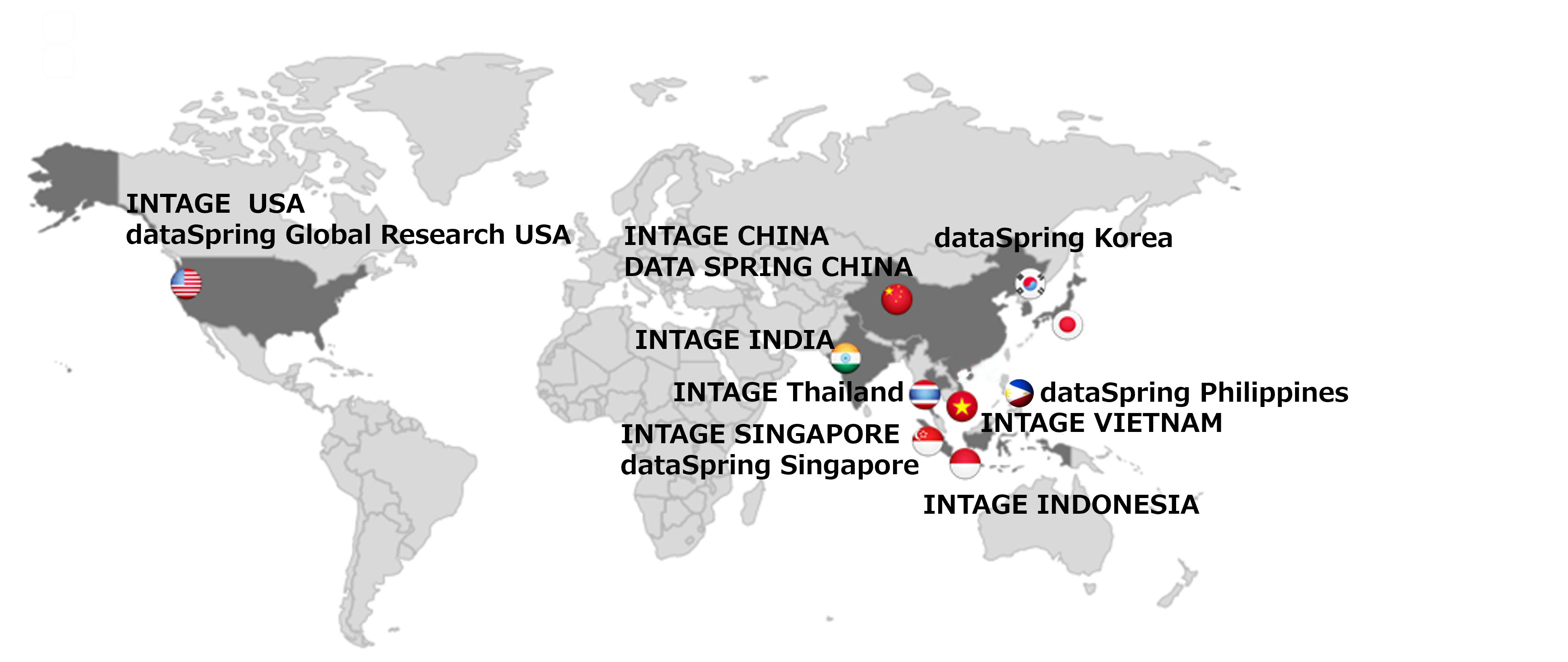 List of Overseas Offices
China
Korea

INTAGE CHINA
Locations: Shanghai, Guangzhou

DATA SPRING CHINA Inc
Location: Shanghai


dataSpring Korea Inc.


Location: Seoul

Thailand

Philippines
INTAGE(Thailand)Co., Ltd.


Location: Bangkok

dataSpring Philippines, Inc.


Location: Manila




Vietnam

India

INTAGE VIETNAM LIMITED LIABILITY COMPANY


Locations: Ho Chi Minh, Hanoi, Da Nang, Can Tho, Phnom Penh (Cambodia)

INTAGE INDIA Private Limited


Locations: Delhi, Mumbai, Hyderabad, Bangalore, Chennai, Kolkata




Singapore

Hong Kong

INTAGE SINGAPORE PTE. LTD.
Location: Singapore

dataSpring Singapore PTE LTD
Location: Singapore


CONSUMER SEARCH HONG KONG LIMITED (CSG Hong Kong)


Locations: Hong Kong, Macau



Indonesia

U.S.

PT. INTAGE INDONESIA
Location: Jakarta

INTAGE USA Inc.
Location: Los Angeles


dataSpring Global Research USA, Inc.
Location: Los Angeles

Characteristics 2
Track record of approximately 400 or more global projects per year
INTAGE delivers 400 global projects or more annually, making us an industry leader in this field.
We have conducted survey projects in not less than 40 countries centering on China, ASEAN, Europe, and the U.S. Our scope of survey covers not only major cities, but also reaches inland and rural areas.
INTAGE has rich experience with various corporate projects, including manufacturing (automobile, home appliances, commodities, beverages, food, pharmaceuticals), service (restaurants, travel), retailing, and finance.
Characteristics 3
One-stop solutions for a wide range of issues
Using a variety of solutions, INTAGE offers information and insights that can be used to solve a range of issues during the entire pre-market entry to post-market entry phase process for overseas business.
INTAGE offers you a one-stop solution!
Our staff who are well acquainted with local circumstances provide the service or information
Examples of Issues/Survey Topics
■Pre-market entry
1. I would like to know the market size
Disc research
POS data
Consumer panel data
Expert interviews
2. I would like to know what our competitors are doing
Analysis of competitor organizations (marketing structure, etc.)
Marketing strategies of competitors
3. I would like to know the local distribution environment
Channel type and share
Distribution route survey of a certain product
Listing of customers and manufacturers
4. I would like to obtain in-depth knowledge concerning the actual situation of the local residents
Consumer survey for understanding users
Estimation of target volume
Identification of target users
Interviews with professional magazine editors, industry leaders, and other experts
■Post-market entry
1. For measuring the effectiveness of marketing activities
Market scale and share (panel data, China EC data)
Event effect measurement
Advertisement effect measurement
2. For identifying the strengths and weakness of your brand
Quantitative survey of branding and brand image
SNS word-of-mouth analysis
Cognitive interview (Customer journey survey)
3. For new product development
Workshop-style survey (Hypothesizing based on survey)
We propose the sort of marketing research that can deal with your company's challenges.
Please feel free to contact us. The relevant team member will get in touch with you.
Services recommended for those viewing this page