Store information database covering approximately 1,300 chains/97,000 stores nationwide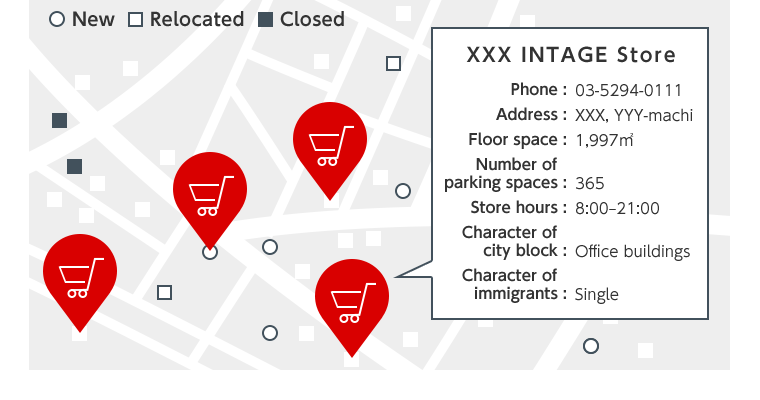 A store database with the location information of retail store chains all over Japan which we have collected and compiled the information ourselves.
It includes basic items such as location, telephone number, floor space, capacity of the parking area, and business hours; in addition, it also includes such additional items as the characteristics of the area and residents, grouped together based on the data of the trading area of the store.
Content included
Subject included
Covers stores in the following business categories (dealing with processed food, beverage, daily commodities, cosmetics, pharmaceutical products, and baby goods, etc.) centered on retail store chains managed by a company with more than 10 billion yen annual turnover
Subject business category
Hypermarket, grocery supermarket, drugstore (except for those specializing in prescription drugs), home center, discount store, liquor discount store, baby product specialty store, and convenience store
Name of the business category
Number of chains
Number of stores
Standard three business categories
Supermarket
789
18,061
Drugstore
211
15,108
Home center/discount store
131
5,298
Optional business category
Baby goods specialty store
7
1,391
Liquor discount store
108
1,612
Convenience store
26
55,467
Total
1,272
96,937
Recorded item/source
Store information type
Item name
Source
Basic item (A)
Name of the store, name of the business, name of the chain, business category, post code
post code, address, telephone number
General public information
Basic item (B)
Sales floor space, business hours, parking spaces/capacity available
Date the store opened(*1)
General public information + Our own investigation
Additional items
Latitude-longitude coordinates
Ranking of distance to the station, characteristics of the area and residents(*2)
Tabulated by GIS
*1

The date the store opened is the "date/month/year" of the time the information was newly included in the database based on general public information after September 2011.

*2

The additional item, "characteristics of the area and residents," is for two business categories i.e. supermarket and drugstore.
Maintenance
The collection of general public information, our own research, and attachment of latitude-longitude location coordinates is carried out every six months (plan)
Updated twice a year (updated in June/December every year and released in July/January)
Manner of delivery/price
National version
Area version
(Price for one area)
Standard three business categories version
(SM, DRUG, HC/DS)
2,400,000 yen
800,000 yen
Optional business category version
480,000 yen each
160,000 yen each
Optional business category version
1,200,000 yen
400,000 yen
Contract type

Yearly contract (with twice-a-year renewal)

Unit of provision

It's possible to provide the Area version and Business category version separately

*

Area category: Hokkaido, Tohoku/Kanto/Chubu//Kinki/Chugoku & Shikoku/Kyushu

*

A discount price, 60% off the price of the standard three business categories version (national version),
applies to limited versions of each business category in the three standard business categories (SM/DRG /HCDS).
We propose the sort of marketing research that can deal with your company's challenges.
Please feel free to contact us. The relevant team member will get in touch with you.
Services recommended for those viewing this page