In-store Observational Survey
Visualization of in-store fulfillment ratio
A survey method which captures the actual display situation in the store by allowing an investigator to observe the store.
By taking advantage of the largest network of store investigators in Japan, INTAGE's in-store display survey captures the actual situation of the designated chain/store provided in an easy-to-understand report.
Point 1
You can find out under what kind of measures your respective business partners are designing their sales floors.
Point 2
Useful for formulating a strategy, such as making a list of business partners with whom you need to take action, by conducting fixed point observations in an area or at a store where your sales staff are unable to fully follow up,
Characteristics of the in-store display survey
You can designate the chain/store to be targeted
By taking advantage of the largest store investigator network in Japan, we can conduct a survey of any chain/store as specified. You can also customize the survey items.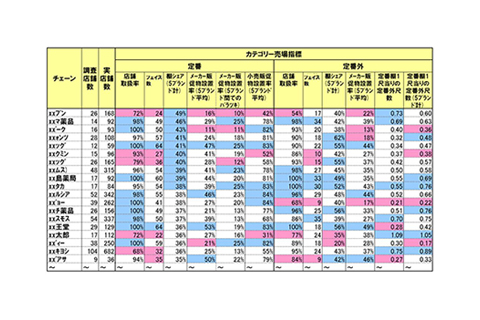 You can compare the display situation of different chain stores area by area. It's also possible to check, store by store, the display situation (face share, etc.) of individual stores that have been specified.
Discover the actual display/policy implementation situation brand by brand
It's possible to investigate and analyze, brand by brand, the actual situation of the sales floor at respective chain stores.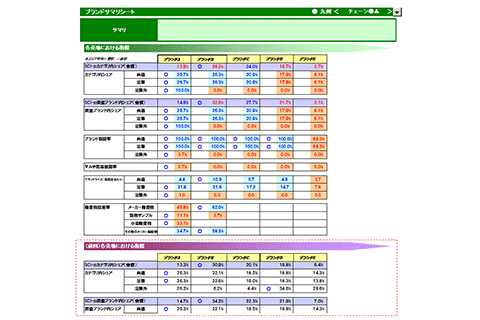 Compare the display situation for different brands at respective chain stores
Compare the sales floors of different chains/stores
It's possible to compare and analyze the actual situation of competing chain store sales floors with those of your own company or designated stores area by area.
How to use the in-store display survey
Confirm if the results of business meetings are appropriately reflected on the sales floor.
Discover how your product is actually sharing the display with your competitors' products on the sales floor of respective chain stores.
Confirm if the difference in turnover indicated by the chain store POS is due to characteristics of the trading area.
We propose the sort of marketing research that can deal with your company's challenges.
Please feel free to contact us. The relevant team member will get in touch with you.
Services recommended for those viewing this page